Smooth Dancer tip for choreography – using timed animations in the middle of your loose animations!
Normally I practice and practice my choreo until I'm ready to play it manually and record (one of my favorite things), BUT today I have two animations that need to flow together seamlessly like they're one, and they don't need any music hits.  There's an AWESOME way to do this I figured out!
Ok…this is new to me, haven't tried it before…so forgive me for being excited!  Ha!  The first of my two animation is a sexy walk that goes in a circle, then another that does a hip sway on the spot.  I needed to activate the sensual sway exactly as my left foot starts moving forward.  I gave this a shot and it worked!
I recorded just the two animations – my sensual and sensual sway so that the second activates at the right time.  I then named and pasted this timed sequence in the middle of my "loose animations".  (They probably go visit bars at night and bring home strange men.)   This is what my Sequences Card looks like.
My Smooth Dancer Sequences Card:
Apple Spice – Action Pose 007
VACATCRWALK02
SENSUAL CIRCLE=
0.000000|My-SENSUAL-81
11.781810|SENSUAL SWAY
Krump Dance 21 – Abra (mirror)
What my HUD looks like: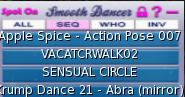 Notice it goes right from the action pose, to the walk, to my recorded sequence, and then to the next animation – Krump dance.  Now that I've recorded those two animations together so they flow perfectly, I don't have to do it again!  Woot!
The Best Part:
When I record my dance, Smooth Dancer records the times for those two animations individually – so I get a perfect flow with those two animations AND I can still record my dance all together so it all flows well.
0.000000|VACATCRWALK02
5.127195|My-SENSUAL-81
16.820120|SENSUAL SWAY
23.538220|Krump Dance 21 – Abra (mirror)
Other Possibilities:
This could be super helpful for animations that need to flow together, like pre-jump, jump, and land – or backflips where I like to play a "finishing" animation with them.
If you think about it – it's almost like you're creating your own animations which you can easily incorporate into dances.  The possibilities and flexibility is pretty endless.
I hope you found this as useful as I did!
Dance on, people!
~ Eva 🙂