My mind is in a complete orbital spin.  Normally if I get my ideas down, it eases, but they are still coming in at a fast and furious pace.  Some of this may be detox from this past weekend, and what an incredible weekend it was!  I have never had such a weekend.
It all started Friday with Elysium of course!   I brought back a favorite…Echoes in Rain by Enya.  This one was carved out of clay, originally not my first song choice – no particles or super dramatic effects.  Choreography was the main focus of the dance, supported by sets and costumes.  The way the ideas flowed, it all came together, astound me and it is now one of my favorite dances.  Sometimes if you try less, and let things flow…they will come together as they are meant to.
For me, right from the beginning, I could feel the emotion of the dance as I created it.   In my beginnings at SLDC, we always used live tools, each animation on a hud was activated manually, each movement triggered independently.  The little nuances always made for a unique performance because the timing was never exactly the same…the placement of a foot, the twist of the hand as the animations flowed from one to the next.
This still continues for me now, even though we have different tools that can allow us to do so much more.  I use the Performance Director, the Choreography Designer, the Smooth Dancer to record my dances.  I hand select every animation I think may work – sometimes over 200…then I go through them all building my dance.  I record them as I dance them, capturing the movements, watching for just the right turn of the body.  There is feeling and passion when I create, and to me, that is captured.  As I dance on stage, that emotion fills me and hopefully others in the audience feel the same.  I know I do when others dance.  So often I speak of seeing a dancer breathe.   In some, for me, the dancers take on a surrealistic existence, in which I can see them flow through the movements, and I can feel them breathing.  These are the ones that touch me the very most.
Now that I've digressed, this emotion wasn't more evident than in the Autism Awareness shows this past week.  There was such love and support for everyone involved, so much amazing talent, breath-taking and moving performances, people willing to pitch in and do anything needed.  On Saturday I danced in three shows – with Immy representing Winds, as Harleyquin and with Immy in the variety show, and with Paramount as choreographer and co-manager.  I was so much busier than I expected doing three numbers and last minute prep for the Paramount show.  Everyone at Paramount stepped up to the plate and kept everything running smoothly – I couldn't be more proud.  13 acts Paramount put on – 7 full stage acts and 6 "filler" acts which happen in front of the curtain during transitions.  None of the choreographers or dancers for any of these performances representing any venue did this for tips, or even acclamation – but to offer our support for Autism Awareness and to other dance teams.
It didn't stop there, on Sunday Harleyquin performed, and I also danced with the very talented Klark and again with Immy.  The night finished for me rocking the DJ booth at Winds and dancing with Jilley.  I was honored to pitch in when they put out the bat signal, and absolutely adore the new DJ booth.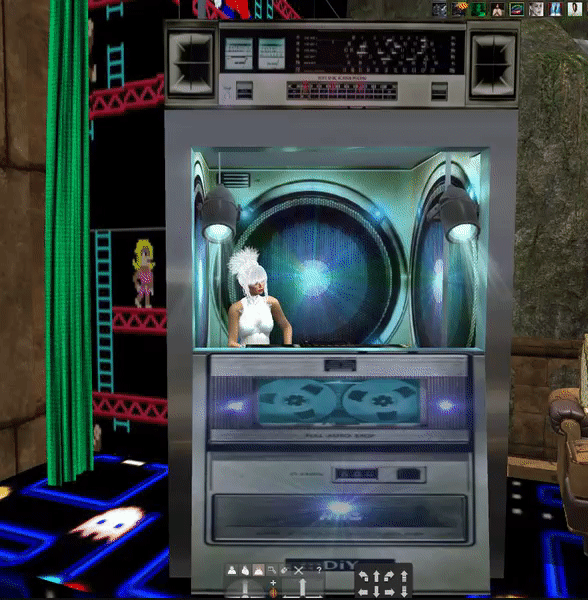 My, and the Harleyquin schedule, is slowing just a touch as I re-focus my creative efforts on music that really stirs me.  I've had a few on my wish list and think I'll really focus on their creation.  The Harleyquin dancers have had these cool masks forever and have hardly been able to use them!
I'm not even sure where to begin with pictures, but add them I shall!  After I take a mini vacation – and also work on my newest Terpsi-Corps effort for the LEA London sim!
My take-away from this post, and this weekend:  The support, the caring, the passion and dedication in the dance world far outweigh for me any negativity that may exists.  I was truly moved, touched, and overwhelmed and am so very honored to have been part of the Autism Awareness Event, the dance world, and to know the amazing people in it.
Create from the heart, and others will feel.
~ Eva