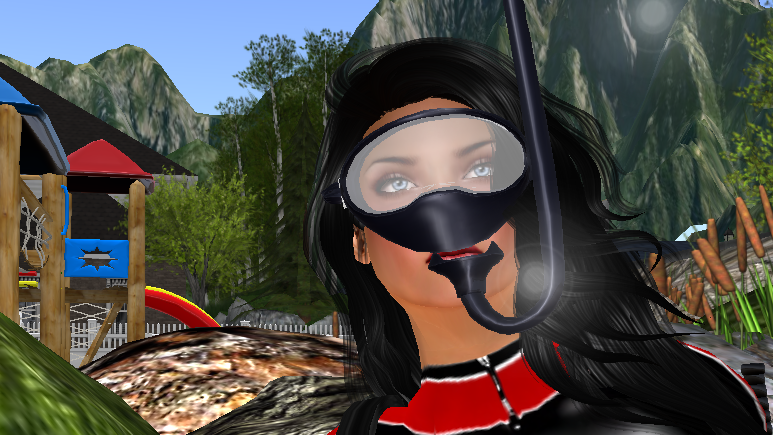 There are times when I wonder how to find order in all that's in my head, some semblance of coherency, and then share it.  If you've been around for a bit, you know that's why I started this blog – all these thoughts and ideas just swirling around, needing to be put to paper.  The blog has evolved over time, a way I can share with others, maybe inspire some to think or create, and also a way I can teach in a way where I can write and edit and hopefully present it in a very understandable fashion.
Last week I tried to teach a friend and fellow dancer the barre hud, just enough for leading crowd dances (damn, and now I realize I forgot to convert her Smooth Dancer sequence to the barre hud format…makes a note).  I've been doing crowd dances for over a year now, absolutely love them and have used the barre hud for every one of them.  I could feel my tongue twisting as I tried to explain it, and think I managed sort of…  Writing helps me put my thoughts in order (which I hadn't done), then helps me speak it coherently later.  It's like anything really, the more you use it, the more you explain it or think through it, the more comfortable you are in doing it.
I'm in the process of re-evaluating my workshops.  I love teaching, the symbiotic relationship, the shared inspiration and passing on what I have learned over the years.  Sometimes I can feel the information connection, sometimes I know the topics are difficult.  Some workshops get quite a bit of interest, others not so much.  I'm working on this, wanting to understand what people want to learn, what works best, how they enjoy learning, and what helps make it "stick"…and mesh this to my own enjoyment in teaching.  I like to teach tools and foundation, and I think I will be expanding on this.  I will never profess to be an expert, but together I think we have a lot to share and learn.   I read this quote, and now keep it in a place I read every day:
The mediocre teacher tells. The good teacher explains. The superior teacher demonstrates. The great teacher inspires. – William Arthur Ward
I strive to be a teacher that inspires.  To continue to grow not only as a teacher, but as a  choreographer, dancer, and fellow student.
I love tools, absolutely adore them, and pick them up easily.  I don't speak of it often, but in RL I'm a Systems Analyst.  That is my job, to evaluate, to understand the tools and the data inside out, to find ways to make things better, faster, more efficient, and when it's not working figuring out why.  To make them sing.  I love puzzles and solving them, the hyperfocus I use when creating a dance.  I also feel such passion for what I create, I pour a piece of myself into my dances and into my workshops.  It's when I feel burnt out, or question myself, or become slack and unprepared, that I know I need to stop and re-evaluate.  I've been all over the eastern half of the US teaching, but in all of that, I've never felt the connection I do, the joy and passion I do, as when I teach in SL.  Dance and teaching in SL make a difference in my life, and I'm so very thankful to have a forum to do this and for the people who come and walk away, hopefully… inspired.
My workshop group is open invitation now, Harleyquin Workshops.  I welcome all who are interested.  I believe in having many teachers, exposure to different ideas and ways are a great thing.  I greatly enjoy the teaching of others too, and feel that's the way it should be.
My mind rambles a lot, these posts often write themselves without directed thought (the musings do anyway).  Whether you attend my workshops or not, don't agree with my methods or style – that is completely ok.  I recognize and appreciate the differences in everyone, the strengths and methods, and support you in your own journey and growth.  I thank all of those who have been so open in teaching and/or sharing with me, giving me the opportunity to perform (even when my monochrome set was sepia and I had to fix it!).
I've been watching quite a bit of Bill & Ted lately sooo…..
"Be excellent to each other…
                                           and…. [dance] on dudes!"   
~Bill S. Preston, Esquire & Ted Theodore Logan
Eva
PS – I'm soooo going to put up some of that Willy Wonka lickable wallpaper in the classroom area!